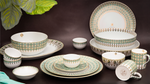 The Neemrana Collection
As a tribute to the rich heritage of India, one of the world's oldest civilizations we developed The Neemrana Collection, with a mindset of restoring and revitalising our culture.
The Neemrana Collection is an intricate 24 CT Gold Plated blueprint filled with a pastel pallet to embrace the confluence of traditions and customs of India.
Somethings are forever and our Neemrana Collection is exactly that, a rich classic design that you will cherish today and for years to come.