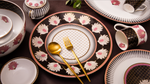 The Blossom Collection
The sight of a beautiful blossom fills one's heart with happiness and awe. It is so very delightful and calming.
At The Table Company, we used these beautiful emotions to create The Blossom Collection, our new design for Summer 2022.
The Blossom Collection delicately ties the neutral black and white pallet with a unique coral hue which is intricately detailed with 24 CT gold plating. It is designed to add an eccentric classic elegance to your homes, while keeping it young and chic.
With this collection we hope to redesign your dinning experience at home and make your table a place where everything blossoms.