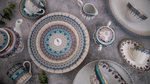 The Jamawar Collection
Inspired by the social and colourful nature of the parrot our Jamawar Collection is intricately designed to be treasured forever. Just how the nature of a parrot to say the same things repeatedly - is symbolic of manifestations, affirmations, incantations and chanting. Jamawar is a classic design that resonates with the idea of being used repeatedly for generations.

This Fine Porcelain with 24 CT Gold plated depiction, is not just meant to style your homes, but to add to your collection that you will pass down your lineage.